We Interviewed Alhesa, our official DOMUS distributor in Costa Rica
" DOMUS is constantly innovating and creating new equipment and technology."
We interviewed María José Alpizar and Gregory Salazar from Alhesa, our official DOMUS distributor in Costa Rica.
Making the most of their visit to our factory in Sant Julià de Vilatorta (Barcelona), we wanted to talk to them about the state of the laundry industry in their country and the main challenges they will face over the next year.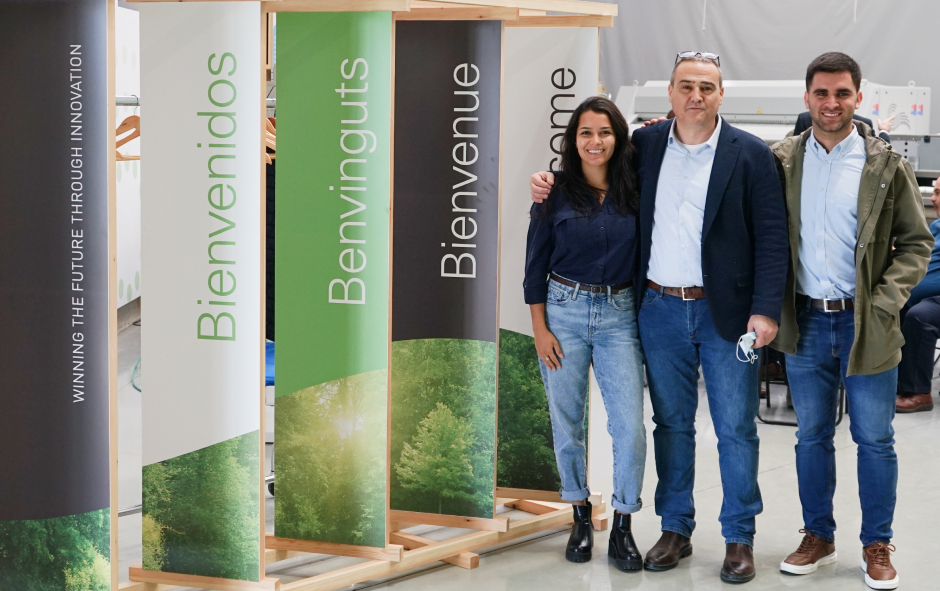 To start things off, we'd like you to tell us a bit about when your company Alhesa was founded and how it started out in the world of laundry        
Mª JOSÉ: Alhesa was founded over 20 years ago in Costa Rica. It was founded by my father and it has always been a family company that has been developing over the years and gaining ground in the country.
It initially started mainly on the equipment installation side, which is the company's forte. But over the years, we decided to also sell laundry machinery, and this is where our relationship with DOMUS began a few years ago.
Apart from selling the machinery, we also offer all the supplementary services that the customer may need: from advice and sales, to post-sales services like equipment maintenance and repairs.
¿What is your main line of business?
Mª JOSÉ: We mainly deal with industrial laundry and our customers are mostly hotels, hospitals and nursing homes, although we also work with some self-service laundry projects.
How would you describe the state of self-service laundry in Costa Rica?
Mª JOSÉ: We can say that the culture of self-service laundries is not as well established in Costa Rica as in other countries such as Spain or the US, but it is growing little by little, particularly in coastal areas where there is a lot of tourism, and also in large cities and student residences.
GREGORY: In our country, people are very used to having a washing machine and dryer at home, but we are gradually seeing that the trend is changing, as has happened in other countries. People are becoming aware of the time and economic advantages of going to a self-service laundry. In Costa Rica, it is something revolutionary that is being slowly introduced, but it is sure to catch on.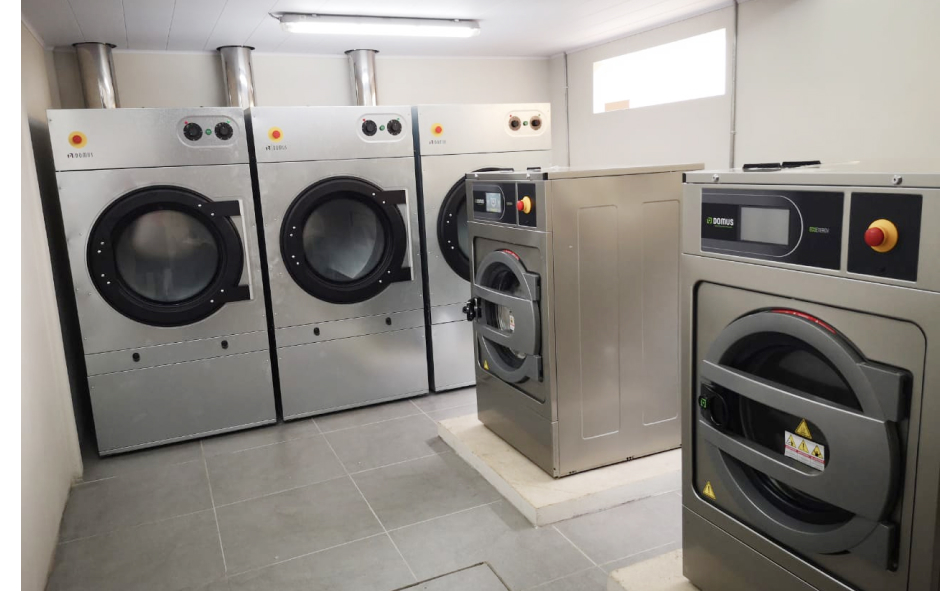 You mentioned that your main line of business is industrial laundry in hotels and hospitals. What are your main challenges in this sector?
GREGORY: In Costa Rica, hotel businesses are sometimes focused only on the purchase price when investing in a washing machine or dryer, and they do not take into account other factors like efficiency and consumption.
This means some smaller hotels still use domestic washing machines rather than industrial ones, because the purchase price is much lower and, if they break down, they just buy another one.
Our main challenge here is trying to gradually change this way of thinking, this culture. We have to try to convey to them that it is ultimately much more profitable to invest in an industrial washing machine. Even though the purchase price is higher, they are much more efficient machines that consume less energy, are more durable and take better care of the garments. They provide completely different results and, in the long term, they are much more economical than domestic machines.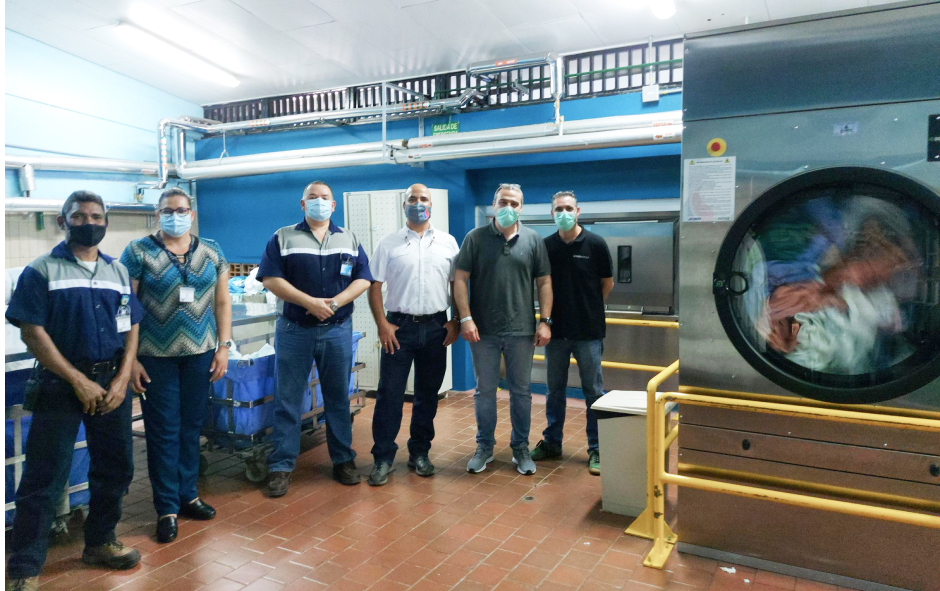 In your experience, what do you think are the strengths of DOMUS machinery?

Mª JOSÉ: The thing I would highlight as the main point is the support we receive from DOMUS, as their representatives in Costa Rica. Because it makes a huge difference to be able to tell customers that you have the manufacturer's backing, i.e., that the machine you are selling is made by this company and that there is support for spare parts directly from the factory. That is definitely a strong added value when it comes to marketing and selling.
Additionally, there is a very powerful culture of sustainability and care for the environment in Costa Rica; it is a country where the green movement is very strong. Companies are looking to invest in efficient equipment to save energy and water, so being able to sell sustainable and efficient equipment is very important to us.

GREGORY: To add to what María José has mentioned, I would also like to highlight the technical side. The main advantage of DOMUS machinery is that it is very user-friendly. The TOUCH II microprocessor is much simpler to use and it also lets you check much more information about each machine, so you can carry out better analyses and reports.
Another advantage is that, thanks to this TOUCH II data, technicians have access to much more detailed information about the machine and they can help us solve any problems that may arise quickly and easily.
The factory's technical service is also an important point that sets us apart from other brands; it is a plus that other companies do not have. The fact that there are DOMUS-specialised technicians to help and support us at all times gives us great peace of mind. Being able to offer a good technical service is essential to us.

MªJOSÉ: Innovation, commercially speaking, is also a key point for us, because like everything else, things have to evolve and innovate, and that is something DOMUS always does very well. It is constantly innovating and creating new equipment and technology.
What are your business goals and/or plans for the future?
MªJOSÉ: Essentially, we are now working hard to break into the private sphere. Not just hotels, but also student residences, local governments, nursing homes… We want to diversify the business more. It is a real challenge for us because sometimes our potential customers are somewhat resistant to change. As we mentioned before, many of these businesses still have domestic machines and it is a little difficult to convince them to make the change. It is an issue we are working on.
And finally, where are your offices based and how can customers get in touch with you?

MªJOSÉ: To contact with our sales department please email us at: info@alhesa.net

María José and Gregory, thank you very much for taking the time to answer our questions. It was a real pleasure to talk to you both, and I hope we see each other again soon.