WALL FLATWORK IRONERS CM-2032M / 2632M / 3332M ECO-ENERGY
DOMUS ECO ENERGY model: more powerful, longer working widths for higher productivity, while keeping a great space saving.
M ELECTRONIC CONTROL
Simple and user friendly with an auto mode: automatic management of the ironing speed according to the selected temperature.
Digital speed and temperature display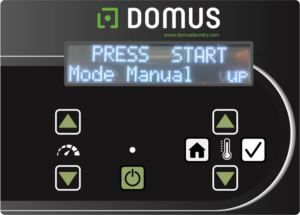 EFFICIENCY
Good heat conduction thanks to the roll material and thickness: greater control of energy expenditure
Automatic shutdown at 80°C (adjustable parameter)
Fumes circulation circuit from the bottom reducing energy consumption
Gas radiant burners: higher productive
ROBUSTNESS
Roll driving by speed inverter
Nomex quality ironing belts: high temperatures resistant
Panels in skinplate and stainless steel
Coiled felt and strips guide for longer lifespan
Nickel plating roll as option: anticorrosive, more durable
ERGONOMICS
Acoustic comfort : <65 dB
Appropriate operating height: 990 mm feeding belts
Mininal encumbrance: space saving, suitable for most areas
Electronic control with Auto mode: easy to use, optimized ironing speed
MAINTENANCE
Easy access to all components on both sides of the machine
Basic connections : electrical connection and air extraction
OTHERS
Dries and irons flat linen from a high spin washer extractor in a single operation
Front feeding and return
Built-in cool down system
Polished steel roll ø 325 mm
Working widths: 2000, 2600 and 3300 mm
Electric or atmospheric gas burners heating
CE Standard
OPTIONS
• EFFICIENT IRON: automatic regulation of ironing speed according to residual moisture
• Nickel plating roll
• Marine tension 440V III 60 Hz without N (electric models)
• Tension 230V III 50-60 Hz
WOULD YOU LIKE MORE INFORMATION ABOUT THIS PRODUCT?