DO YOU WANT TO OPEN YOUR OWN LAUNDRY?
If you would like more information please fill in the following form, we will be happy to assist you and resolve any doubts.
Welcome to the mobile laundry of the future
Are you thinking about starting a self-service laundry business and don't have premises? Do you organise events and need a mobile laundry so you can move it from one place to another?
At Domus we offer you the perfect solution. Thanks to the Clean&Move modules, you can have a transportable self-service laundry with the latest generation machinery.
Transportable self-service laundry
Advanced technology and connectivity
Highly efficient next generation machinery
Starting a self-service laundry business with latest generation technology has never been so easy.
Clean&Move: Do you need a self-service laundry space in your business?
Starting a self-service laundry business with latest generation technology has never been so easy. In this video you can see all the advantages offered by our transportable laundry modules, as well as their strengths and machines, characterised by four values that distinguish our brand: quality, robustness, efficiency and high performance. Press play!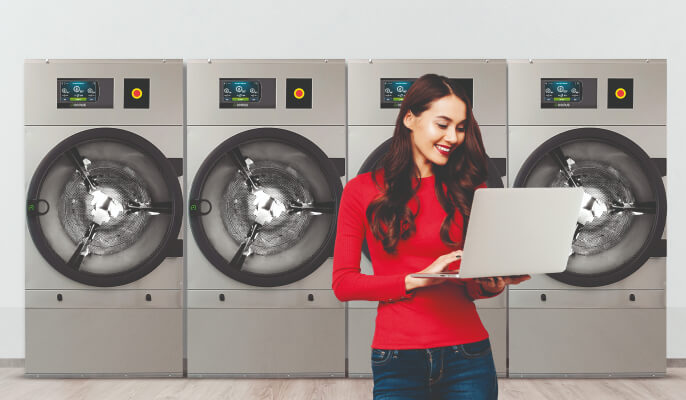 Custom-design the interior
The standard module is made to house all types of laundry machines. It has a very light design, and its structure is transparent, making it possible to see what is happening inside at all times. The machines are easy to handle, versatile, efficient and do not require a lot of maintenance. A safe investment for any business which quickly pays for itself.
Applications for which our Clean&Move modules have been designed
These mobile laundry modules have been designed to be installed anywhere. They aim to respond to the needs of different situations and businesses, such as campsites, large events, festivals, supermarkets, petrol stations, military areas, car washes…
Furthermore, you will be interested to know that we accompany you throughout the entire process, from planning to fine tuning, technical support or choosing the washing machines. You don't need to worry about a thing, that's our job.