WALL IRONERS Ø 250 mm ECO-ENERGY
New range of more efficient ironers
Wall ironers specially designed for greater produtivity: equipped with steam extraction in the cylinder, speed control
thanks to an inverter, better heating management and two modes of use thanks to the new electronic control with an
auto mode to maintain optimum productivity.
The new ECO-ENERGY range is a significant leap forward in terms of efficiency, ergonomics for the operator and productivity, thanks to the frequency inverter, extraction and standard Nomex ironing belts.
ELECTRONIC PROGRAMMER M
Simple and user friendly with an auto mode: automatic management of the ironing speed according to the selected temperature.
Digital speed and temperature display.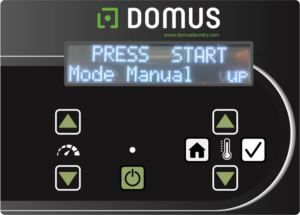 EFFICIENCY
Acoustic comfort: 60 dB max
Minimum space requirement: space saving, suitable for
small spaces
Ideal for processing small quantity of flat linen in facilities like
restaurants, guest rooms, hostels…
ROBUSTNESS
Nomex coating: resistant to high temperatures
Panels in grey skinplate and stainless steel
Wooden feeding table
New kinematics: better reliability
Industrial roll axle and bearings: more durable
FEATURES
Large roll contact area with the linen
Mode of operation identical to a flatwork ironer: no roll lifting, more ergonomic.
Models equipped with Nomex belts, suction and variable speed inverter: more productivity.
Adjustable speed and temperature.
MAINTENANCE
Easy installation : requires only an electrical connection
Easy access on both sides for maintenance
Quick and easy dismantling of bearings
OTHERS
Front feeding and return
Roll ø 250 mm
Working widths: 1.400 and 2.000 mm
Electric heating
CE certification
OPTIONS
• Tension 440V III 60 Hz No N (marine)
• Tension 230V III+T 50-60 Hz
WOULD YOU LIKE MORE INFORMATION ABOUT THIS PRODUCT?