We are returning to EXPOdetergo International, the leading event held every four years in Milan, Italy. EXPOdetergo is Europe's biggest trade show dedicated to machinery, technology, products and services in the laundry and dry cleaning sector. This year, the focus will be particularly on the major challenges that must be faced in the laundry market today: sustainability, digitalisation, environmental protection, sanitisation and hygiene.

After the great success of the last edition in 2018—both in terms of visits to our stand and the interest shown for DOMUS developments—we will once again be exhibiting at EXPOdetergo 2022 to showcase the latest innovations in industrial washing, drying and ironing, especially in terms of efficiency and connectivity.
This is also a very special and intense year for us, as we are celebrating our centenary. One hundred years innovating and manufacturing laundry machinery have brought us to where we are today, stronger than ever.
IoT – The future of laundry is here.
Among the new developments that visitors will find at our 185 m2 stand, DOMUS Connect will be a major feature: the IoT, a whole host of advantages through connectivity, which will take any laundry business to the next level.
DOMUS machinery has been developed using the latest technology, in order to connect it to the cloud and obtain the most varied information. All this information offers advantages for the customers, users and owners of a laundry, as well as for technicians, etc. All from a laptop and remotely, in order to analyse and make the best decisions.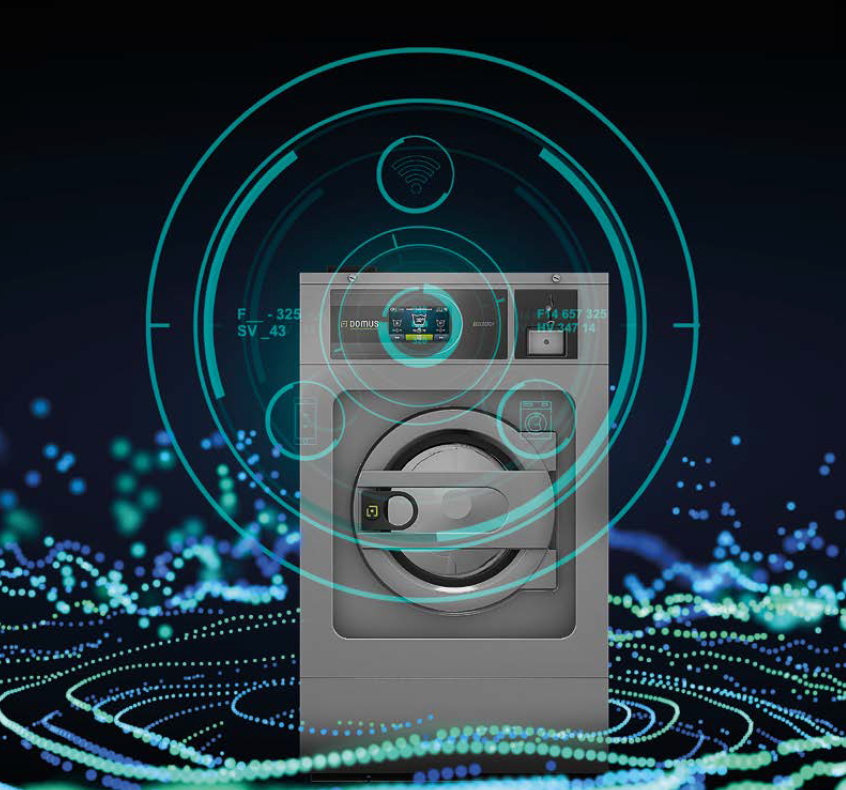 Washers, dryers and flatwork ironers more efficient than ever
Another important point we must not fail to mention are all the efficiency improvements that have been applied to the different DOMUS products. Washing machines, dryers and ironers are even more efficient and, therefore, help to save more and are much more environmentally friendly.
In terms of the washing machines, we want to highlight the reduction in water consumption per cycle while maintaining optimum wash quality, as well as the fact they boast the lowest energy consumption on the market. In addition, the TOUCH II programmer can be personalised to optimise their efficiency even further.
Our tumble dryers are also equipped with various features like intelligent moisture control (Efficient Dry), thermal insulation and AIR RECYCLE: the smart air recirculation system that, among other things, substantially optimises energy consumption.
And finally, we must not forget the DOMUS flatwork ironers, designed to offer the best performance and productivity, with EFFICIENT IRON to control moisture, achieving significant time savings and high energy efficiency, also thanks to the radiant gas burner, among other features. Also this year, we have introduced new ranges and capacities, resulting in a wide array of options for all types of sectors and businesses.
Do not hesitate and book your EXPOdetergo ticket now through this botton:
We will see you at STAND F20h11 – HALL 3.0 from 21 to 24 October 2022.