20 to 60 kg industrial washing machines: What can we offer you?
Why should you choose Domus for buying your 25 kg industrial washing machine?
At Domus, we are specialists in the industrial laundry sector. The main characteristic of industrial washers is that they are capable of washing continuously in daily shifts every day of the year. These washing machines are manufactured in different capacities, and we offer models ranging from 11 to 120 kg. 
Our industrial washing machines
At Domus, we have been designing and marketing advanced solutions and machinery for many years for different sectors requiring state-of-the-art washing machines. Our washing machines are designed for maximum performance, high productivity, safety, hygiene and energy efficiency.
They are also smart and IoT-enabled, thanks to the new Domus Connect system. This service lets you manage your laundry from your mobile device, as well as monitor the machines in real time, store data in the cloud and much more.
In addition, thanks to our extensive experience in the sector, we have succeeded in developing versatile, robust washing machines that fully satisfy the current needs of industrial laundries.
At Domus, we understand that laundries of the future require the development efficient and sustainable machines and solutions, which is why we are also very mindful of our firm commitment to the environment. 
High spin washer DHS 27, 35C, 45C, 60C TOUCH II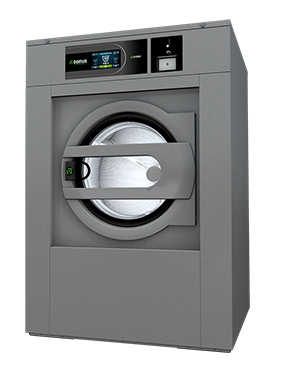 When it comes to industrial washing machines with capacities ranging from 20 to 60 kg, we have to mention the DHS 27-35C-45C, one of our flagship machines.
This is a model with advanced features. The first thing we should highlight is its processor —the TOUCH II— which is really easy to use, with a 7" touch screen and full traceability control for every cycle. It also incorporates pre-set eco-friendly programs, is Wet Cleaning-ready and it can be configured in 37 different languages. This is a factor that has meant our industrial washing machines can be operated by users from practically anywhere in the world.
This washing machine is designed to work through the IoT and, in terms of efficiency, it incorporates a smart consumption system called Optimal Loading, it can be connected to a water recovery tank and also has a high G Factor of 450.
What's more, this is an ergonomic washing machine designed for easy access to all its components and requiring minimal maintenance. The new front access to the electrical panel saves time and makes maintenance much easier for technicians. In addition to the AISI 304 stainless steel tub and drum, it has a detergent dispenser with 4 compartments and is CB and WRAS approved. 
It can be customised and modified with various options and components, in order to further adapt it to the specific needs of your industrial laundry.
Don't hesitate to ask for more information about our industrial washing machines
At Domus, we believe that a personalised service is essential. All our customers receive a fully specialised and dedicated service in order to find the best option. 
Please feel free to get in touch with us using the form. The well-being and satisfaction of our customers is our top priority. And finally, we want to let you know that we also offer a wide range of industrial dryers and wall flatwork ironers, the two other essential machines in an industrial laundry.