Water savings in industrial laundries
Currently, efficiency, sustainability, and water savings are increasingly relevant topics. That's why at DOMUS, we are committed to promoting water savings and responsible water use in industrial and professional laundries.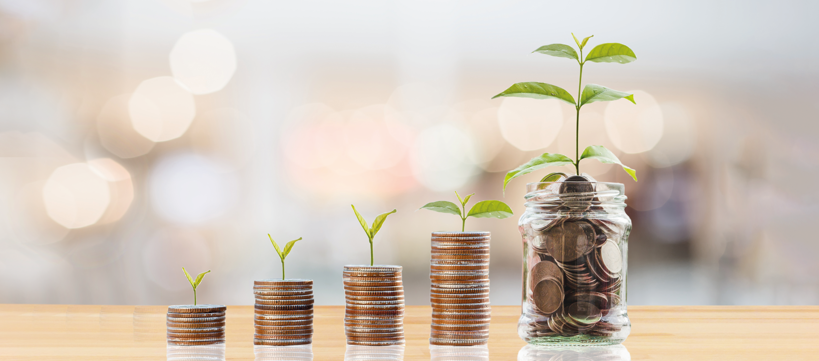 Our constant effort to find ecological solutions for industrial laundries has led us to conduct numerous studies to investigate the real needs of a modern and environmentally friendly laundry, ranging from energy savings to water management and washing efficiency.
These analyses, together with a significant investment in R&D, allow us to design machinery with the latest technology year after year, capable of responding to the real problems and challenges that industrial laundry owners face on a daily basis.
For example, DOMUS industrial washing machines include a wide variety of efficient features such as the weighing system, to ensure that washing cycles use only the necessary amount of water and chemicals, contributing to the reduction of water consumption and the preservation of the environment.
In addition, it is also possible to save even more water and energy by connecting the washing machines to the ECOTANK or the new ECOTANK XL water recovery tanks.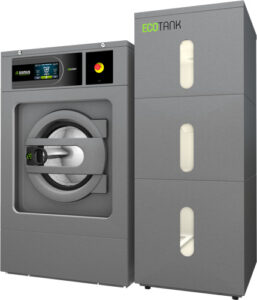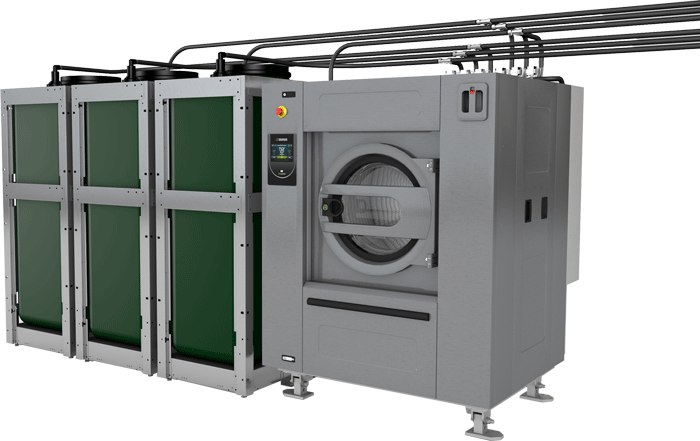 ECOTANK is a water recovery tank that can be easily connected to front-loading washers or models with a sanitary barrier from our catalogue, thanks to the advanced TOUCH II microprocessor technology.
It is an innovative product designed to improve the performance and efficiency of industrial washers. Industrial laundries can optimize their resources even further and achieve significant savings of up to 70% in annual water consumption (combining the Ecotank with a washing machine with weighing system), making them the ideal choice for a wide variety of environments such as hospitals, care homes, industries, correctional facilities, hotels, and residences while caring for the planet and striving for a more sustainable future for all.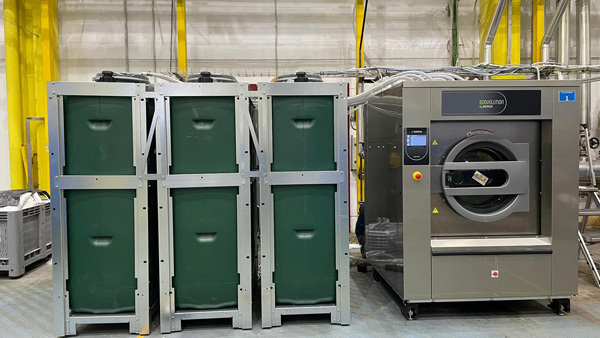 We offer two types of ECOTANK based on the washer capacity:
ECOTANK: High-density polyethylene tanks that are easy to maintain and available in two capacities:

80-liter tanks are for DHS-11/14/18/22 front-loading washers and ASM-16/22 barrier washers.
150-liter tanks are for DHS-28/35C front-loading washers and DHB-27/35 barrier washers.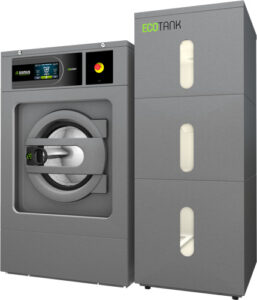 ECOTANK XL is a new product for 2023 and is especially suitable for industrial laundries that work with large machines from 35 to 120 kg. It consists of a centralized water recovery installation for one or more machines (washers or sanitary barriers) and allows the connection of 1 to 3 tanks of 1,000 litres each. Below, we detail the machines that can be connected:

Up to 8 units * 35/45 kg washers

Up to 4 units * 60/80 kg washers

Up to 3 units * 100/120 kg washers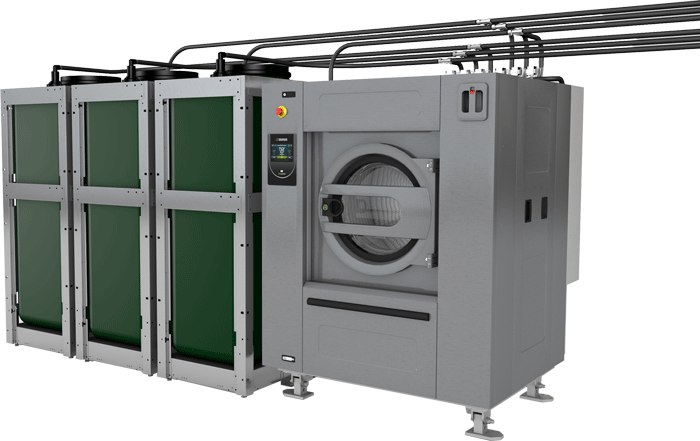 In summary, if you own or manage an industrial laundry and want to save water and energy significantly, do not hesitate and add ECOTANK or ECOTANK XL water recovery tanks to your industrial washers.