The main features of hospital linen washing machines
What are barrier washers for?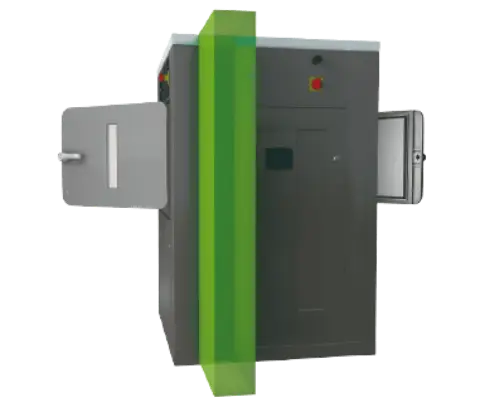 One of our main production lines focuses on meeting the needs of the hospital laundry sector. 
With everything we have experienced over the last couple of years, hospital laundries have become extremely important. At these kinds of facilities, nosocomial infections are common, and soiled or bloodstained linen is undoubtedly one of the most critical areas to consider.
The machinery must ensure the highest possible standards of hygiene and disinfection, as well as a safe environment for both patients and laundry users.
Qualities of sanitary barrier washers
What makes washers with sanitary barriers perfect for hospitals and healthcare centres is their double-door system. This system has been specially designed to prevent cross-contamination, which is caused by contact between dirty and clean linen at some point in the process.
With our lines of sanitary washers, we have succeeded in launching high-performance equipment on the market, as these machines offer high load capacities and are capable of guaranteeing the best safety and hygiene conditions at all times.
Washer with sanitary barrier DHB 27, 35, 59, 70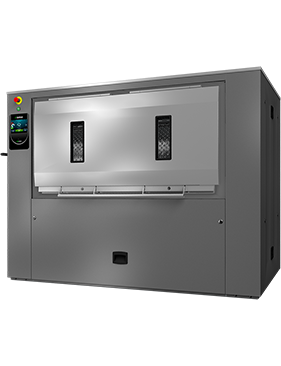 For example, the DHB washer for hospitals has a load capacity ranging from 27 to 70 kg, depending on the model selected. It also has the TOUCH II microprocessor with a standard double 7" touch screen that is easy to use and has 38 available languages, making it accessible to users worldwide. What's more, this microprocessor allows for exhaustive traceability control, the use of pre-set eco-friendly programs and eight dosing signals, among other advanced features.
In terms of the more technical aspects, it has a central drain, together with an automatic drum positioning system with electric brake, which is important to facilitate loading and unloading by the operator. The tub and the drum are made from AISI 304 stainless steel and the panels are grey skinplate.
There is a choice of electric or gas heating and we even have a model with dual heating. It can also be connected to a water recovery tank, which saves up to 70% of the annual water and detergent consumption. 
It has a very high G Factor compared to other similar models on the market, and thanks to the new Domus Connect system, it can be easily controlled remotely from any mobile device, allowing you to monitor all its activity.
This is a washing machine with advanced features offering the level of safety and hygiene required in hospital laundries, and which, after everything we have experienced in recent years, should be an essential element of these types of facilities. 
Washer with sanitary barrier ASA-100 Pullman TOUCH II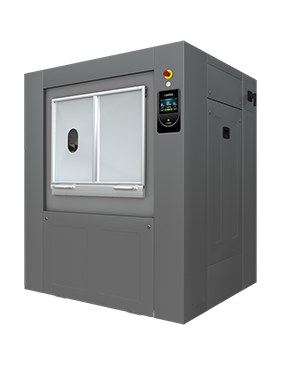 This sanitary barrier washer has a high load capacity, can be connected to a dosing pump and requires little maintenance. 
Its advanced double-door system operates using compressed air, with a 50 L compressor. It is fully CE certified, its tub and drum are made of AISI 304 stainless steel and it also has a floating barrier without the need for anchoring. In terms of ergonomics, it has very large doors to facilitate loading and unloading.
And finally, it is important to mention its efficiency because, like other models, the PULLMAN incorporates the TOUCH II microprocessor with double 7" touch screen, a smart weighing system or the possibility to input the load weight manually, thanks to the OPTIMAL LOADING system.
In particular, this model is designed to meet the needs of hospital laundries that have to process huge quantities of linen every day, offering the best standards of hygiene, cleaning and performance on the market.