Sale of wall-mounted flatwork and high-productivity ironers
Optimise time and achieve exceptional quality results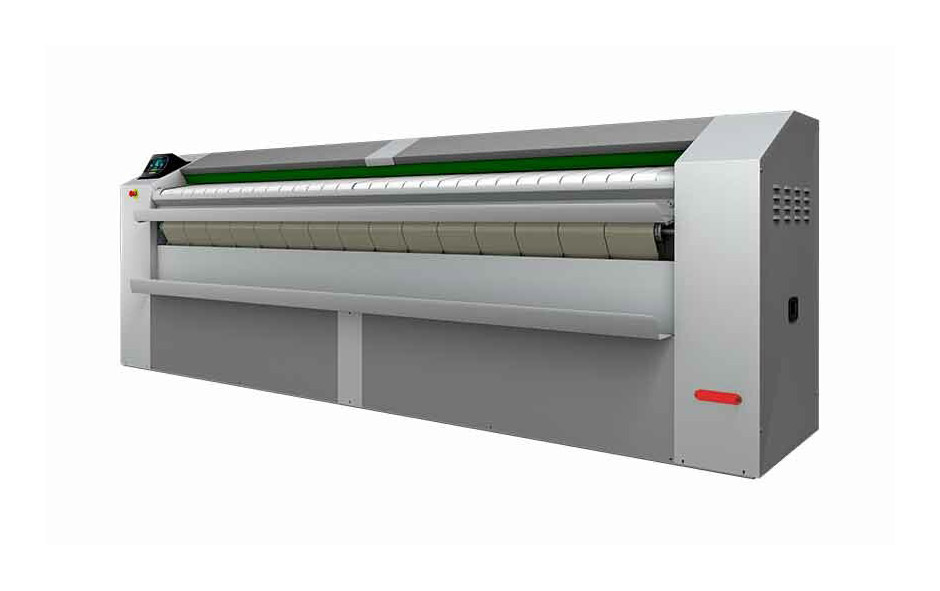 Flatwork ironers are independent ironing machines that are perfect for any laundry that needs to iron large volumes of flatwork every day, guaranteeing the best quality finishes. 
At Domus we have 2 different types of flatwork ironers: wall-mounted flatwork ironers and high-productivity flatwork ironers.
What is the main advantage of having an industrial flatwork ironer?
The main advantage offered by an industrial flatwork ironer is perfect ironing and finishing. For bed linen, table linen or accessories needed for catering services and more, it is important not only to think about washing, but also about ironing.
Our ironing machines give flat linen a clean, unique touch that will help you to offer a good final service to the customer, whether in a restaurant, hotel or any other type of business that requires these services.
Wall-mounted flatwork ironers
The first thing we want to mention is that our wall-mounted flatwork ironer incorporates the TOUCH II microprocessor, with a 7", programmable and easy to use touch screen, available in 38 languages.
Thanks to this microprocessor, you will have 10 pre-set programs and be able to upload custom programs easily using the USB connection. Like many of our laundry machines, these ironers are equipped with software that enables traceability and data analysis, integrated reverse roll, in addition to other features.
Another benefit is that the 500 mm and 600 mm wall-mounted flatwork ironers offer the option to add a folder to meet the drying and ironing needs of industrial laundries. Like all our equipment, these machines are characterised by their versatility and robustness. 
Don't forget that we offer various models with features that help you to optimise the process, such as a rear return for the garments, resulting in high productivity.
They also have the EFFICIENT IRON system, which offers automatic ironing speed regulation according to residual moisture; and OPTIMAL FEEDING, a high-productivity system that allows you to work at reduced speeds for feeding and faster speeds for ironing up to 15 m/min.
It is important to have a good understanding of this system, because if the speed is not reduced for the operator to be able to insert items correctly, it is not possible to feed the machine properly to achieve the maximum ironing rate.
If that is the case, the high speed is never taken advantage of and high productivity is not possible. To ensure greater durability, the feeding and ironing belts are made from Nomex, which can withstand high temperatures.
In terms of energy performance, features like the chrome-plated cylinder, the gas heating and the new radiant burner make these machines advanced and energy-efficient.
High-productivity flatwork ironers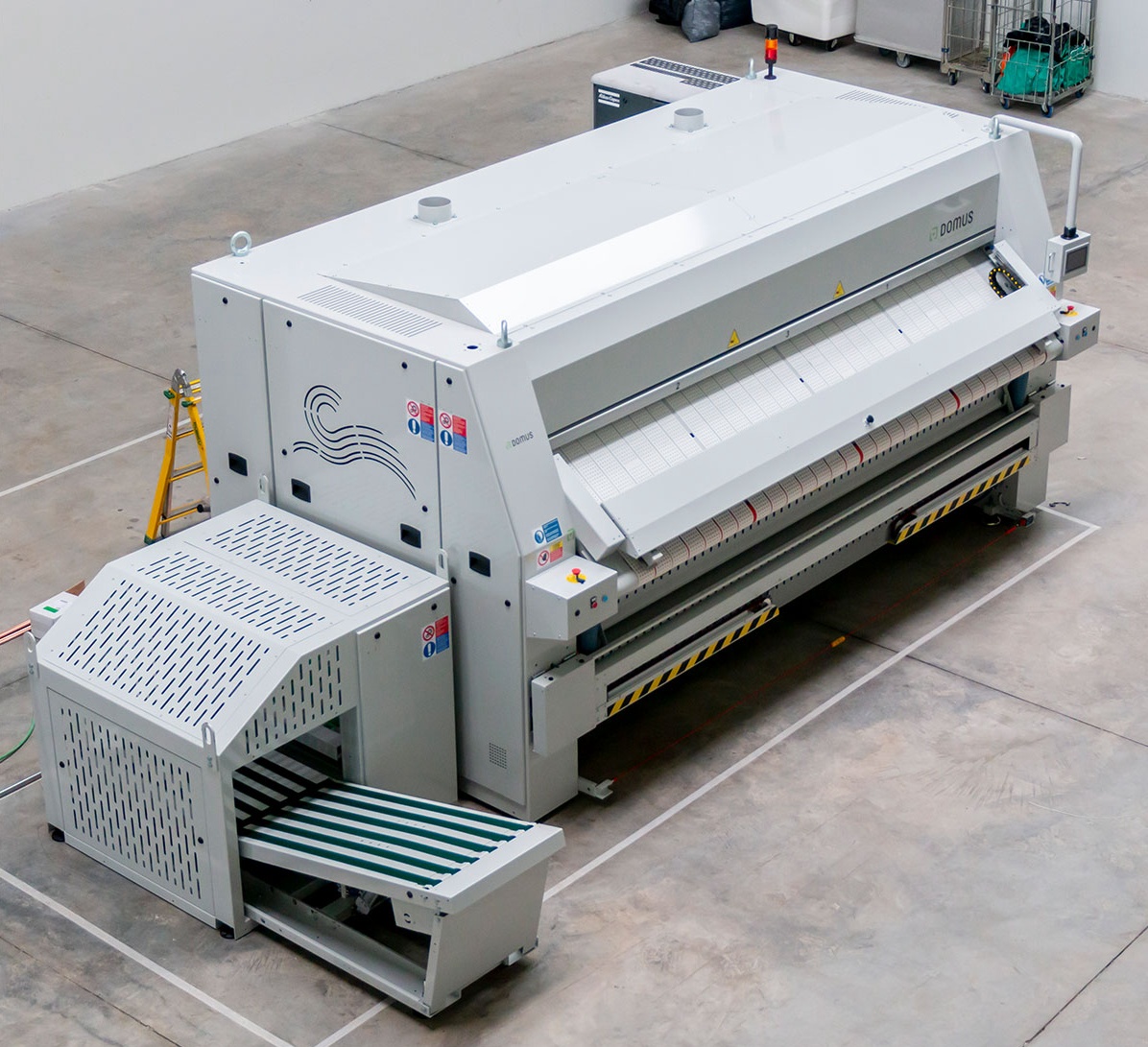 We end this post by showing you the S, SP and SPE high-productivity flatwork ironers. If we look at the SPE model, we have to mention that these kinds of flatwork ironers have been designed to offer high productivity in compact spaces. They need no more than 27 m² to operate at full capacity and they are capable of processing up to 18 metres of linen every minute.
This model in particular has different roll widths—600 , 800 and 1000 mm— and can operate with one or two lanes, as well as with two types of folding: length fold and cross fold. They have a side stacker and the folding is carried out by means of photocells and compressed air. 
It also incorporates Nomex feeding and ironing belts, an automatic stop at 80°C and a touch screen interface that enables the creation of programs with speed, temperature and folding parameter controls. All these features mean that this flatwork ironer is able to process 290 kg of linen per hour. 
To request more information about any of our flatwork ironers, don't hesitate to contact us. Please take a moment to fill in the form, and one of our sales representatives will contact you shortly!