ECOTANK water recovery tank
ECOTANK water recovery tanks are an essential element in any 21st century eco-friendly laundry service. They allow operators to save up to 70% on annual water consumption and are designed to optimise washing processes, making them more efficient and sustainable in equal measure.
ECOTANK is a water recovery tank attached to washing machines that can be easily adapted to both the front-load washers and the models with sanitary barrier found in our catalogue.
TOUCH II microprocessor technology streamlines programming and connection between the two machines so that the installation process is simple and the tank functions correctly.
What we have here is a machine that operates in industrial-scale laundry services, such as hospitals, industry, prisons, hotels and care homes, or, in other words, places that truly benefit from washing machines with superior energy and water saving systems.
They are the best way to optimise resources in an industrial laundry service, care for the planet and fight for a better future for all.
These water recovery units consist of 1, 2 or 3 tanks and are designed for front-load washers and washers with sanitary barrier. They are made of grey skinplate and are operated by water inlet valves.
They are very easy to install and can be set up quickly thanks to the TOUCH II microprocessor. The tanks themselves are made of high-density polyethylene and do not require extensive maintenance.
Each recovery unit consists of a water inlet, vapour outlet, water outlet and overflow/drain, as well as two water level sensors (minimum and maximum) in each tank.
Benefits of the ECOTANK for laundry services
Major yearly savings: ECOTANK tanks save up to 70% on annual water consumption. Process optimisation leads to sustainable gains in efficiency and productivity.

The ECOTANK system also reuses the chemicals from each wash. It has water recovery units made up of 1, 2 or 3 tanks.

Ergonomics and adaptability: The tanks have a capacity of up to 150 litres. Despite this, their design takes up little space, and they fit easily into any laundry area.

Cutting-edge technology:The TOUCH II processor can monitor machine usage and connectivity via the display. The unit contains self-cleaning tanks with pre-set programmes, as well as removable tanks for easy cleaning and maintenance.

The 80-litre tanks are for the DHS-11/14/18 front-load washers and the ASM-16/22 barrier washers. The 150-litre tanks are for the DHS-27/36 front-load washers and the DHB-27/35 barrier washers.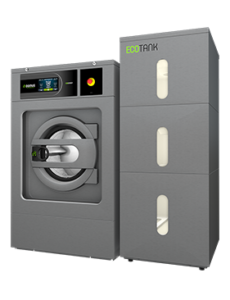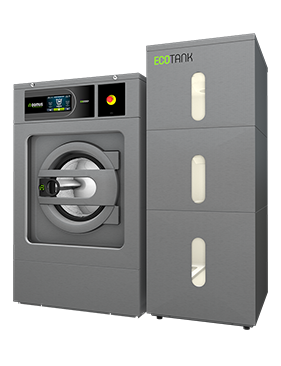 Don't hesitate to request any information you may need
Eco-friendly industrial washing machines are here to stay. Water recovery tanks are, and will continue to be, essential in the industrial laundry services of the future. 
If you want to know more about how ECOTANK works, do not hesitate to contact our sales department obligation-free for more information by filling in the contact form below, sending an email to domus@domuslaundry.com or calling +34 93 888 71 53.